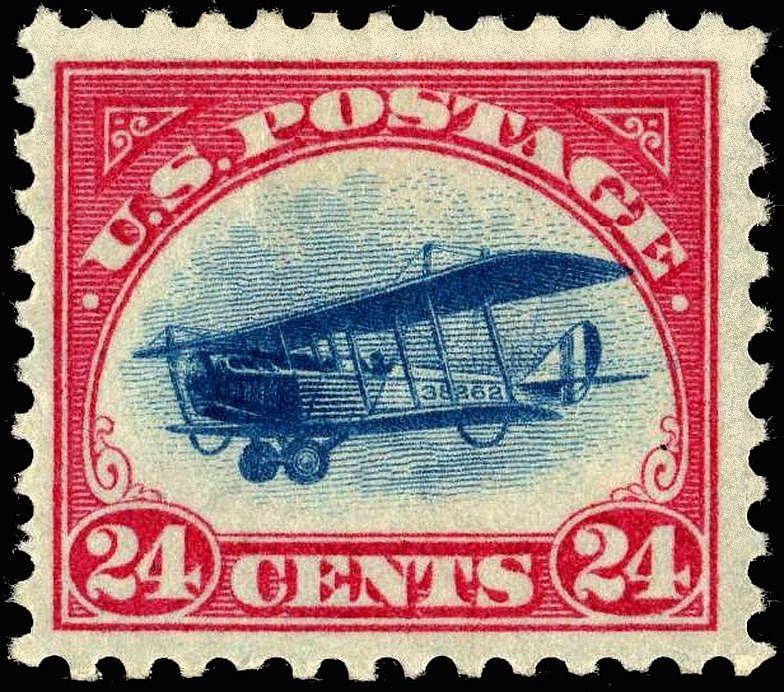 Smallest "Programmable" (Meter, Gauge, Annunciator, or EIS)
Display almost anything in your aircraft in about the size of a postage stamp!
It functions as a meter, gauge, annunciator, and even can function as a small EIS.
Warning screens can be yellow.
Alarm screens can be red, and will flash if needed, with an audible output.
Display can be red, yellow or green.
Weighs only 2.0 oz. (55grams) !
Model: AG6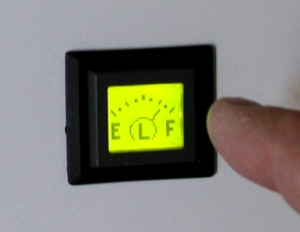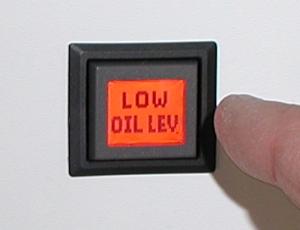 If you desire to monitor OAT, CHT, EGT, or thermocouple inputs and etc, please choose our Model: AG6T
Click here to see our model AG6T
Model AG6:
Will monitor up to 6 inputs.
Audio Output (If the audio output is used, only 5 inputs are available.)
Display: Red Yellow Green (flashing for alarm)
User configurable
Over 200 screens to choose from (we can create custom screens for your application)
Can display up to 16 screens on one "Push Button LCD Display".
LED backlight, Red, Yellow, Green
MANY screens to choose from. Some examples below:

One Button,
Multi-function,
Aircraft Annunciator

Fuel Gauge
Several styles available
(with low fuel warning and caution zones)

Digital Meters
Volts, Amps, EGT, CHT, OAT, Fuel Pressure, . . . & much more!
(with low & high warnings and caution zones)
Click HERE to see ALL Screens Available
DESCRIPTION
The AG6 is a full service Aircraft Annunciator, Fuel Gauge, Oil Level Gauge, Volt Meter & Current Meter. The annunciator will display many different aircraft warnings. All devices feature user programmable alarms. The AG6 utilizes a push-button LCD display that is backlight with a 3 color LED. All functions are fully programmable by the user. The push-button/display can be used for programming, acknowledging the alarms, and paging thru up to 16 different screens or "annunciator points". The AG6 can automatically scan thru each screen or it can be done manually using the push-button. The pilot has the ability to mask or unmask annoyance alarms.
NOTE: Input devices not included. It is up to the user to provide input devices such as fuel senders, shunts, oil level sensors and input switches to drive the AG6.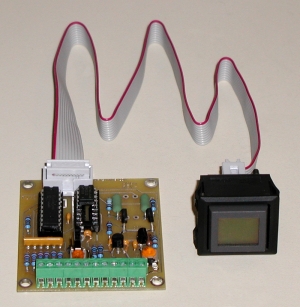 INSTALLATION MADE EASY
DISPLAY & PUSH BUTTON
Display can be easily mounted in the panel anywhere you can make a square hole. It is a snap to install !
Measures 1.25" wide by 1.0625" high by 1.375" deep, including bezel housing
SIGNAL INPUT BOARD
Signal input/driver board mounts lower in the instrument panel for easier wiring. This permits a better location of inputs & connections in a crowded aircraft. Measures 2.25" wide by 2.5" high.
RIBBON CABLE
The 18" ribbon cable makes it easy to install and remove if necessary.
Plugs are provided at both ends.
FEATURES:
INPUTS
The AG6 will accept up to 6 input signals. (If the audio output is used, only 5 inputs are available.)
All inputs will accept signal ranges from (0 to 0.200V) to (0 to 16.383V). Inputs can come from simple on/off switches, aircraft shunts, resistive sensors such as fuel senders, or analog signals from other equipment. The AG6 is compatible with capacitance type fuel or oil senders as long as the sender's output is a current or voltage proportional to the fuel or oil level quantity. All inputs can be configured for a filter or delay. These filter time constants are fully programmable. Filtering may be used to eliminate noisy signals and/or lengthen signal response times.
NOTE: Input devices are NOT included. It is up to the user to provide input devices such as fuel senders, shunts, and switches to drive the AG6.
SHUNT INPUT
There is one special input for a shunt. It can be used to monitor aircraft current. This shunt can be placed in aircraft's plus or minus leg of the power circuit. No isolation is necessary. This input will accept signals from (0to 0.050V) to (0 to 0.250V). This is the range of most aircraft shunts. NOTE: If this input is utilized, input terminal #5 cannot be used. The shunt signal will become input signal #5.
ALARMS
When there is a valid alarm, the display screen will blink. If the audio output option is selected, it also will sound. The pilot can temporarily mask or switch off any annoyance alarms using the push button. When the alarm is masked, the display depicts a little triangle in the upper right hand corner of the screen. It can also be easily turned back on. The annunciator features two, three, four, or five zone alarms for maximum flexibility. All alarm set points and alarm delays are fully programmable.

Have you ever left your Fuel Pump on too long?
The alarm delay is programmable from 0.0 to 409.0 seconds (6 Min. 49 Sec.).
This allows you to program this annunciator for a wide variety of applications
such as this one. For this one, just wire the AG6 to your fuel pump switch.
SOUND OUTPUT
An audio output is also provided when there is a valid alarm. This output can be wired into the aircraft's sound system.
An on board amplitude adjustment is provided.
NOTE: If the sound output option is utilized, only 5 inputs will be available. Input terminal #6 will be used for the sound output.
DISPLAY & DIMMING
The push button display is an LCD display that is backlight with an LED. The LED color can be green, red or yellow.
Screen colors are fully programmable. Green is used for a normal condition, yellow for caution, and red for the alarm.
The screen brightness control can be tied to aircraft's instrument lighting dimmer.
PUSH BUTTON COMMANDS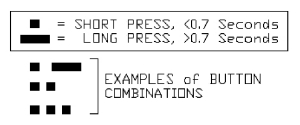 Since the AG6 utilizes one button for entering all commands, commands are entered in a simple combination of long and short button presses similar to Morse code. The manual provides a cheat sheet that you may copy to include it in the aircraft and aircraft handbook.
GAUGE CHARACTERISTICS
Operation of the fuel gauge is depicted below. When the fuel reaches a low level caution point, the display is yellow. When the fuel reaches the low fuel point, the display blinks red. The pilot can acknowledge the alarm by pressing the button. The alarm will stop flashing but will remain red. The audio output will also stop.

FUEL
GAUGE
OPERATION
EXAMPLE
as fuel is run out
The full scale and zero offset of the input signal can be programmed for each gauge.
NOTE: The AG6 Fuel Gauges and the Low Oil Level Gauge assumes a linear input signal is provided. Most capacitive type senders
can be calibrated to yield a linear output signal. If your sender is calibrated linear, the AG6 will display a linear representation.
INPUT POWER
Input power is 12Vdc or 24V. Current draw is less than 0.060A (60mA) with the LED back light on.
OPERATION
There are two different operating modes, manual and automatic. In the automatic mode, the AG6 automatically scans thru each point or screen and then starts over again. The manual mode operates in a similar fashion except that the user can use the push button to toggle thru the different screens stopping at any screen. You can easily switch from mode to mode using the push button.

AUTO
SCAN
EXAMPLE
PROGRAMMING ASSISTANCE
If you are NOT a gadget person and would like to simplify the programming, order the AG6 from Aircraft Extras, Inc. web site and request that we pre-program it you. We will contact you by e-mail or phone and discuss the details of your project.
PROGRAMMING:
All functions are fully programmable thru the AG6 push button. Some of the programming features are depicted below:
Display Screen & Scanning
We provide many preprogrammed screens you can choose from to make initial programming easier.
Default (Scan thru screens automatically or manually)
Screen scan dwell time
Alarms
Display alarm only when there is a valid alarm or display the alarm status always during normal screen scan
Ability to mask annoyance alarms
Alarm delay time (time that the signal has to remain in the alarm zone before it announces the alarm)
Ability to program boundary set points for each alarm zone
Inputs
Input signal filter time constant are fully programmable to filter out noise and/or slow down signal response time
Ability to define any input signal for a given screen
Ability to invert the input signal polarity
Display
Ability to select screen color for each alarm zone
SPECIFICATIONS:
Power In
AG6-12V 10 to 15Vdc
AG6-24V 20 to 28Vdc
Current draw: 0.6mA max. (AG6 without LED back light)
65.6mA max. (AG6 with LED back light)
AG6 Inputs: 6 inputs (0 to 16.383 volts) (5 inputs available if sound output is utilized)
AG6 Input impedance: 36.6K Ohms (terminals 1 to 6)
AG6-24V Inputs: 6 inputs (0 to 32.766 volts) (5 inputs available if sound output is utilized)
AG6-24V Input impedance: 65.4K Ohms (terminals 1 to 6)
Analog Input Resolution: 1024
Input terminals: accepts 16 to 26AWG
Shunt input: 1 input, 0.05V to 0.25V full scale (If utilized, input #5 cannot be used.)
Display: LCD with LED back light (Green, Yellow, Red)
Interconnecting cable: 10 conductor ribbon, 18" [457mm] long
Panel cutout for display: 1.142in. x 0.933in. [29.0mm x 23.7mm]
Panel thickness for display: 0.059in. to 0.157in. [1.5mm to 3.98mm]
Motherboard: 2.25" x 2.5" [57.2mm x 63.5mm] , Hole Pattern #6-32 screws, 2.0" x 2.25"[50.8mm x 57.15mm]
Alarms: All screens are programmable with alarms.
Ability for pilot to mask annoyance alarms.
Adjustments: volume & display contrast
Programmable items: input source, input filtering, input inverted, auto scan screen dwell times, alarm thresholds, time in
alarm zone before alarming (409 seconds max.), alarm self reset, scan or auto scan, number of alarm
zones, screen colors, sound output, calibration gain & zero for gauges
Programmable screens: many - many annunciator type screens, fuel gauges (several types), low oil level gauge, volt meter,
current meter
Click the link below to PRINT OUT a Specification Sheet for the AG6
Click HERE to see ALL Screens Available
To pay by PayPal or Credit Card, simply CLICK
the appropriate "Shipping Option" and then, "Add to Cart",
or click here to see other Methods of Payment
Ohio Residents please add in 7.50% tax.
Annunciator/Gauge/Meter, AG6-12V $169.00
Annunciator/Gauge/Meter, AG6-24V $189.00
NOTE: This unit's inputs are scaled for 24V for full scale. The normal resolution of any AG6 input is 1024. If you require that
some inputs need more resolution, we "can" scale any one of the individual inputs for 12V full scale. This would double
your resolution but, it would make that input a maximum voltage of 16.383V. If you intend to utilize the shunt input
for a current input, this is also useful to add a bit more of resolution. This will have to be done for input #5 since the
current input utilizes that input. Just contact us if you require this modification for your application.