A DIFFERENT RV-6 PANEL DESIGN
Yep, . . It sure is a good looking panel! I wish I could take credit for
this idea, but I can't. It is the brain storm of one of Columbus, Ohio's
RV builders, Daryl Green.
MAKE SURE YOU CLICK THE PICS FOR A BETTER LOOK SEE!
WHAT IS IT MADE FROM?
Well, it is a carbon fiber design. It is made of the same stuff that most of the Indy cars are made of. As you probably know, carbon fiber design has been around for quite some time now. Most people cover up the pretty weave with paint, . . but Daryl had the great idea to bring out the fiber detail by making this panel clearly stunning. He lettered it with white rub-on letters, and then painted it with several coats of clear.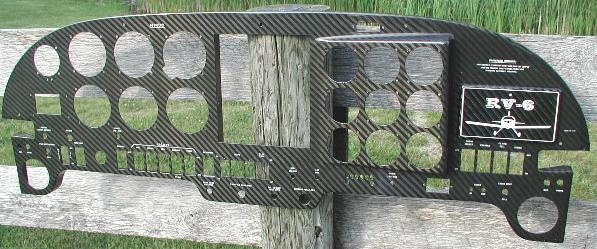 Just another view
A local expert with Indy cars created Daryl's instrument panel using an autoclave. This process is fairly expensive and somewhat time consuming. It is done in this manner to get the smooth finish that is seen here. It also removes most all of the air voids creating a very strong panel. Daryl's panel is only 0.05 in. thick!
The instrument and switch holes were all cut very quickly using a water jet process at a local manufacturing facility. This was done for the accuracy, however; you could do it yourself, manually. He supplied them with an AutoCAD ".dxf" file for the data.
A clearer look at the pretty weave The glove box!
The rear view!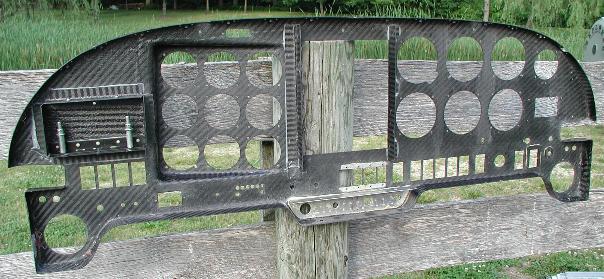 You can clearly see that Daryl reinforced some areas with aluminum for added strength. These
areas are easily reinforced by epoxying strips of aluminum to the rear of the panel as shown.
IS THIS DESIGN FOR SALE ??
Well, if you have the money. It is a little expensive but really an eye stopper. Aircraft Extras is in a position to offer only an RV-6 panel just like this one, including the offset passenger side instruments. You will have to cut your own holes where you desire for the switches and instruments. There are also other carbon fiber materials available with a little different color through the weave.
PRICE?
Well, you can have one of these panels for $550.00 to $590.00 depending upon a few custom option decisions. Some of these decisions are: radio stack location/size, glove box location, if you want the center stack detailed, & etc.
WILL IT FIT MY PLANE ?
Well, we think in order to accomplish this at the present time, you will have to have this panel "in hand" before starting your instrument panel area. In other words, if you have already mounted your instrument panel overhang, this panel may not just slip right in easily. On the other hand, if you have just started your fuselage, you are in luck. Just build your fuselage around this panel! Later, we intend to supply full size templates for the builder to experiment with the fit of this panel.
Look for more pics as Daryl fills up his panel!
Pressure is on now!