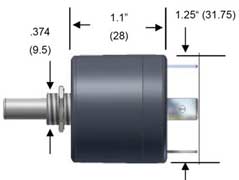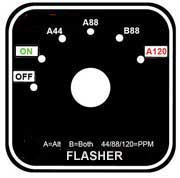 FLASHER Description
Dual Circuit 12-35 VDC, 0-10 A, Control 500 Watts In a 1-1/4 inch Diameter Package.
Flasher a Complete Compact, Light Weight, Powerful, Solid State Light Control/Flasher!
APPLICATIONS:
Experimental Aircraft landing light pulser
Emergency Vehicles
Hundreds of DC Lighting Applications
SPECIFICATIONS:

Voltage Range: 12 to 35VDC

Max Current: 10 A per Circuit

Capacity per Circuit:

120 Watts @12VDC

240 Watts @24VDC

280 Watts @28VDC

MaxPulse Function Modes:

Both CKTs Off

Both CKTs On

Alternate 44 PPM (STD)

Alternate 88 PPM

Both Flash 88 PPM

Alternate 120 PPM

Operating Temperature Range: -20° C to +50° C

Internal Temperature Protect: +85°

Storage Temperature: -40° C to +100° C

Maximum Internal Temperature: @10 A +25° C above Ambient.

Enclosure Material: Bayer FR110 resin Meets UL 94

Flame Rating: V-2 (0.03in) V-0 (0.059in) 5VB (0.098in) 5VA (0.13in)

One Year limited warranty

Weight: 1oz (28g)
To pay by PayPal or Credit Card, simply CLICK
the appropriate "Shipping Option" and then, "Add to Cart",
or click here to see other Methods of Payment
Ohio Residents please add in 7.50% tax.