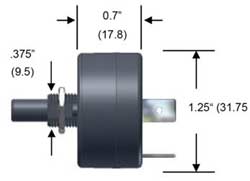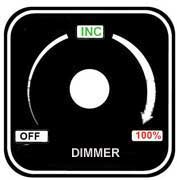 DIMMER Description
This is a great product! It functions as a 15A dimmer and only weighs 0.58 oz. It is FAA PMA approved for many aircraft. It is worth the money given these traits alone.
It operates with an input voltage from 12V to 35 Vdc. The output is voltage controlled. The current draw can be anywhere from 0 to 12.5 Amps. All this is packed in the small 1-1/4 Inch Diameter Package. Connections are made via a standard 1/4" spade lug connector. It is light weight, powerful, and solid state dimmer.
APPLICATIONS:
Experimental aircraft instrument panels
Instrument Panels
DC blower motors
Small DC motors
Halogen lights within the specifications
Hundreds of DC Lighting Control applications
Boat Cruiser Cabins
SPECIFICATIONS: Model #9100-001-A

Input Voltage Range: 12 to 35VDC

Max Current Output: 12.5 Amps

Controlled Output: ( 0 to 12VDC . . to . . 0 to 35VDC ) at ( 0 to 12.5 Amps )

Capacity:

150 Watts @12 VDC

288 Watts @24 VDC

350 Watts @28 VDC

Install with Standard Supplied solderless Crimp Connectors

Potentiometer Rotation: 270° Rotational Life: 500,000 Turns

Operating Temperature Range: -20° C to +50° C

Internal temperature Protect: +85° C

Storage Temperature: -40° C to +100° C

Maximum Internal Temperature: @12.5A +15° C

Enclosure Material: Bayer FR 110 Resin Meets UL 94

Flame Rating: V-2 (0.03in) V-0 (0.059in) 5VB (0.098in) 5VA (0.13in)

One Year limited warranty

Weight: 0.58 oz (16.6g)
To pay by PayPal or Credit Card, simply CLICK
the appropriate "Shipping Option" and then, "Add to Cart",
or click here to see other Methods of Payment
Ohio Residents please add in 7.50% tax.
Ohio Residents will pay 7.5% tax.